Hello freezing temperatures and ice on my car. Hello nights that I cannot leave WITHOUT tights and hosiery on my gams. Hello playful layers. Girl, is FREEZING outside. And if there is one thing that I do not get along with, it is the cold. I just can't. You know, I read a post over on Yahoo! Style about tights and I was inspired, motivated, and just knew I had to fancy a playful post for you but from a plus perspective- sharing where to shop for plus size hosiery and tights!!
You know what is cool? When you marry fashion and function. I fully believe that the magic is when you can combine the two. I was peeping the offerings over in that Yahoo Style post, and thought, we have those! We have both fashionable and functional options in hosiery and tights! Like over 20 places to shop!
Read on for over 20 awesome places where you can find all sorts of tights that will fit every occasion and personality, whether you are looking for cheeky, fancy, flirty, or fun. Perfect if you are looking for fashion and function!
20 Places to Shop Plus Size Hosiery and Tights
Addition Elle (Up to a 4X): Great line of options including trouser socks, tights, and patterns.
ASOS Curve (Up to a US 22): Love their playful patterns and their faux suspenders. Great options!
Avenue (Up to a 7X): Extremely diverse options…definitely check it out!
City Chic (up to a 24): Looking for classic with a colorful twist? This is perfect for you!
Hips and Curves (Up to a 6X): For all of my sexy ladies, this is where you go when you're trying to stop traffic and break necks.
Ice Cream Lady: Edgy, bold, playful and not for the shy, this brand definitely is going ot be on my list this winter!
Just My Size (Up to a 6X): Are you more of a classic chic chick? This is the spot for you.
Kmart (Up to a 4X): If you love the Love Your Size Collection, you can find them in the store as well. Kmart has given me life with a pair of their tights.
Lane Bryant (Up to an E and F): High quality and so many options. You can't go wrong here – online and in-store.
Lysse Leggings (Up to a 3X 26/28): I have more than five pair of these. I love them so. Think, double lined, high quality, and fashion forward? These are kind of fab.
My Tights (Up to a 32): This fashion forward company from the UK lets you play around with your styles.
Nordstrom (Up to a Size 24): If you're trying to get fancy on 'em, this is where you need to go. Pretty Polly, DKNY, and Spanx, oh my!
One Stop Plus (up to a 8X): If you prefer online shopping, this is a great place to go. In addition to their house brand (Comfort Choice) they also offer hosiery from Torrid, Avenue, and others.
Re Dress Online (Various): If you're looking for teggings (tights + leggings), I can vouch for these! My trip to Mississippi would not have been the same without them.
Simply Be (up to a 28): If you are looking for fashion forward and classic options, you need to get with this one. Diamonds, lace, and so many hues to choose from. Plus they have some cute clothes!
Sock Dreams (Varies): Great thigh highs and hosiery!
SONSEE (Up to an US 24): This Australian company features Italian hosiery that has fit, form, and function. Fabulous!
Spanx (Up to a 26-28): Famous for their fashionable and functional shape wear, this is pretty much a no brainer, ladies!
Target (Up to a 2X): I rock with Target…enough said!
Torrid (Up to a 5X): If you are looking for all things playful, sexy, and bold – you are in the right place.
Walmart (Up to a 4X): Don't sleep on Walmart, yall! Great stop if you're looking for classic options.
We Love Colors (Up to a 3X): Listen yall, they have over 80 hues and a wide variety of styles and patterns. YESSSSS!
Sharing is caring! Pin it for your notes, to share, or to bookmark!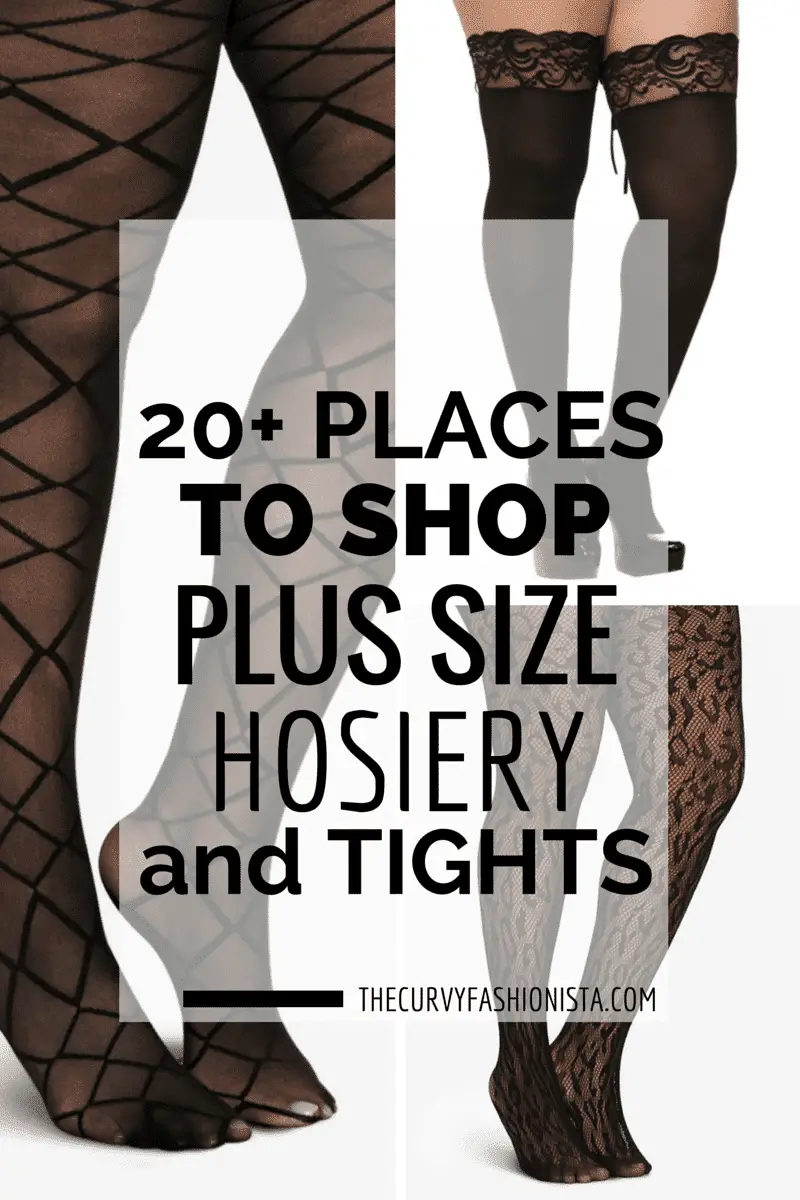 Ok, ladies…did I miss anything? I think I gave you a few great places to start and to shop your heart out- right? Various retailers, styles, and pricing- you have options! Fashionable and functional ones too!
Your fave not up there? Drop your favorite hosiery spot in the comments below!
Continue Reading