Not too many are aware, but I was a bride-to-be back in 2013. Although my plans of getting hitched never came to fruition, the wedding planning experience was one that I'll never forget. One of those unforgettable experiences was wedding dress shopping and overcoming my plus size wedding dress fears. 
As a plus size bride-to-be, being mortified about finding a dress was something that I'd dreaded since prom. Prom was the only instance I was burdened with the task of finding a special occasion dress from a boutique, with a consultant and loved one in tow to help support me in this very permanent decision.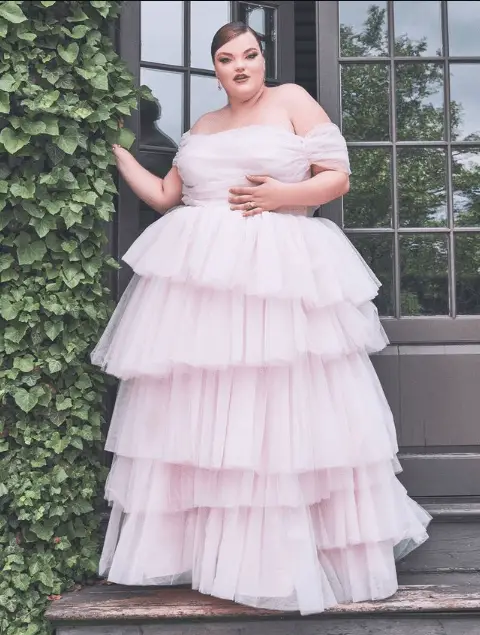 Although my experience dress shopping for prom was decent, the truth is.. I settled. Options for my size were limited, lacked my personal style, and I felt  immense pressure to just pick something for the sake of time. With all of that being said, how could I not cringe at the thought of repeating this process, for a more important dress. 
Even though I only visited two plus size bridal boutiques during my wedding gown search, the contrasting experiences in each setting made me quite the expert in the matter. 
Let's jump into a few of my Plus Size Wedding Dress Fears and some tips to help you overcome those fears:
NOTHING WILL SUIT MY BODY SHAPE
Take a deep breath and remember, this is supposed to be a joyous time in your life. Go into your dress experience with an open mind. Be optimistic that you will find the right dress for your big day. Firstly, your research should begin online. Browse hashtags on social media (ie. #plussizebridal) to figure out what silhouettes you love and hate for your body.
Research plus size bridal boutiques and read reviews from plus size brides. Don't be afraid to call or email boutiques for more information concerning their plus size selection. When you are well informed and ready to visit retailers in person, remember to be kind to your body.
Invite ONLY supportive loved ones, and leave the nitpicking ones at home.  
I WON'T HAVE THAT EMOTIONAL MOMENT
..and the reality is, you probably won't. We have all watched those reruns of "Say Yes to the Dress", and are so used to brides and their families become overwhelmed with emotion when they find 'the dress'. When I found a dress that my mother and I both loved, I was so unsure about it for the mere fact that neither of us shed tears. 
You don't have to have an overly emotional moment to have a great shopping experience. It's the overall experience that will create lifelong memories.
3. MY ____ DOESN'T LIKE MY DRESS 
Although I was lucky enough to have my mother share my love of the dress I picked, I would be lying if I told you I would've still chosen it if she didn't approve. The validation of family and friends is understandable.
A plus size wedding dress is the most self-expressive dress a woman will ever wear. This is where bridal consultants play a major role. They have the ability to read the room and support you through any doubts.
Be open and communicate your feelings to your consultant. They are there to advocate for you! You always have the option to try accessories on to show your dress in a different light. Your loved ones will know when you are in the right dress. Not because of the style, but because of how you glow in it.
If they truly love you, they will support anything that makes you light up!
4. I WON'T BE ABLE TO AFFORD MY DRESS
Budget! Budget! Budget! Set a reasonable budget for your wedding gown and stick to it! Do not pull any dresses to try on that are out of your financial reach. If you do, you run the risk of falling in love with a dress you can never have.
There are many brides who sell their wedding dresses on websites such as Poshmark and StillWhite. This is a great way to have that expensive dress your heart desires, at a lower cost. If you don't want the responsibility of storing your dress post-wedding, you can rent your gown for the night with DressAfford (up to 26W).
Retailers like ASOS and Eloquii now sell bridal gowns that are just as quality as they are gorgeous. 
If you are still looking for your plus size wedding dress, make sure you stayed tuned in our Plus Bridal Week coverage!
Did you find these tips helpful? Do you share any of my fears as a plus size bride? Let me know in the comments!