It's that wonderful time of the year… sequins are everywhere. Sequins garments are the cheat code for brightening up your mood and wardrobe. Who doesn't want to sparkle, twinkle, and glow with style?
If you are a little timid of sequin, there are many ways you can include small aspects of it in your wardrobe. You can wear sequin accessories. Now, if you are anything like me and want to be the brightest in the room. A sequin jumpsuit, joggers, or dress are perfect options.
Sequins are no longer the granny-looking dresses that are worn to weddings. (You know exactly what I'm talking about) There are a plethora of stylish plus-size options. We are getting color, style, and silhouettes.
Let's shop for sequin party finds that are sexy, easy to wear, can be worn for regular workdays, and holiday parties.
20 Plus Size Sequins Party Finds to Brighten Your Mood!
As The Curvy Fashionista editors, we write about stuff we love, and we think you'll like too. We often have affiliate partnerships, so we may get a share of the revenue from your purchase.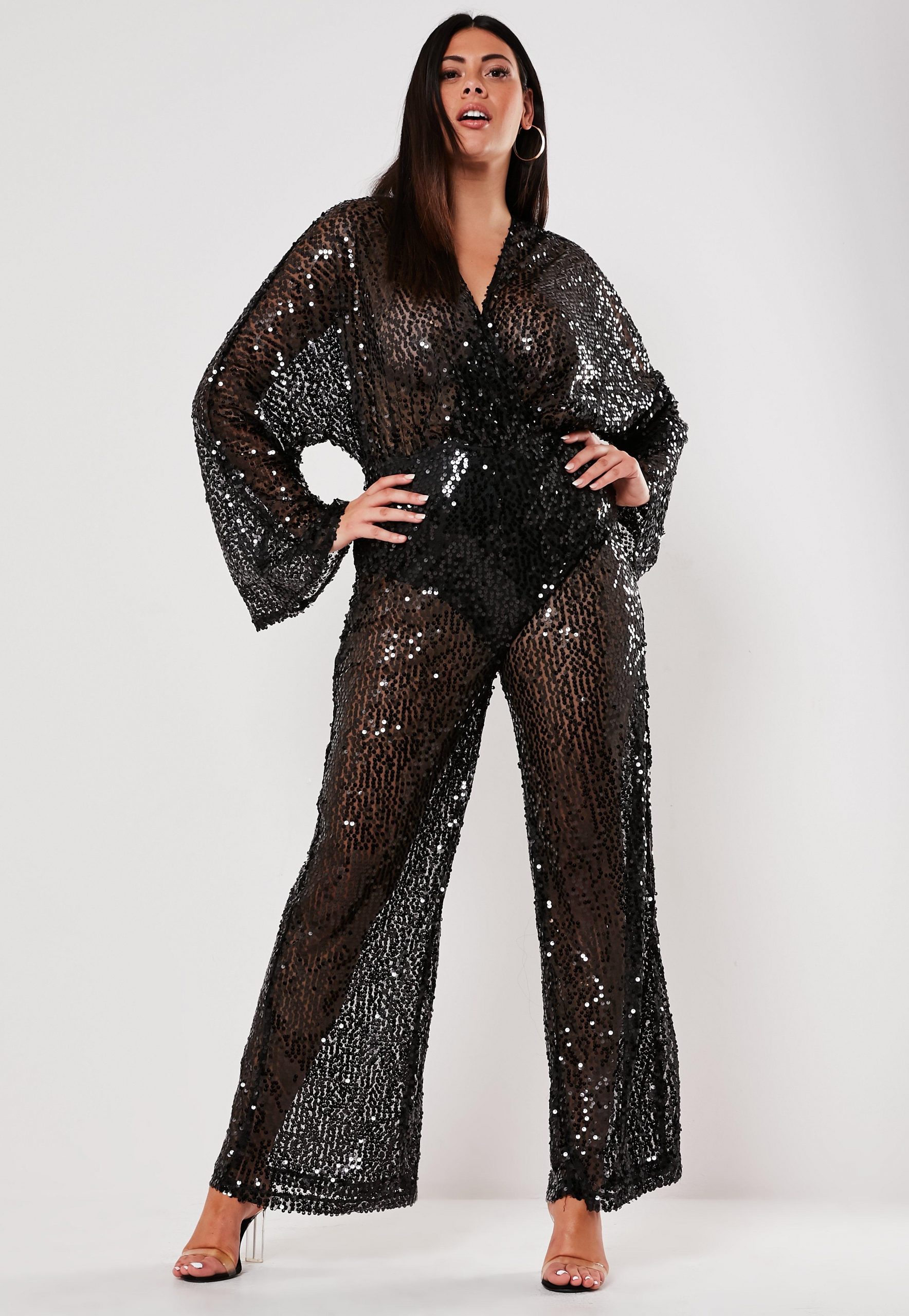 Photo Credit:
Macy's
Shimmer and shine all night in this stunning sheath dress by Eliza J, a blouson style that's completely covered in sequins.
(Available size 18W-22W)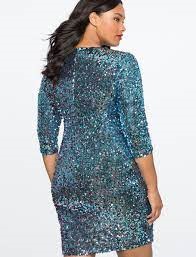 Photo Credit:
www.citychiconline.com
Dial-up the glamour in our lustrous Sequin Stripe Dress, featuring a dreamy one-shoulder design with gel lining to hold in place. A curve-hugging style for up-styled evenings, this dress shimmers and shines oh-so luxuriously!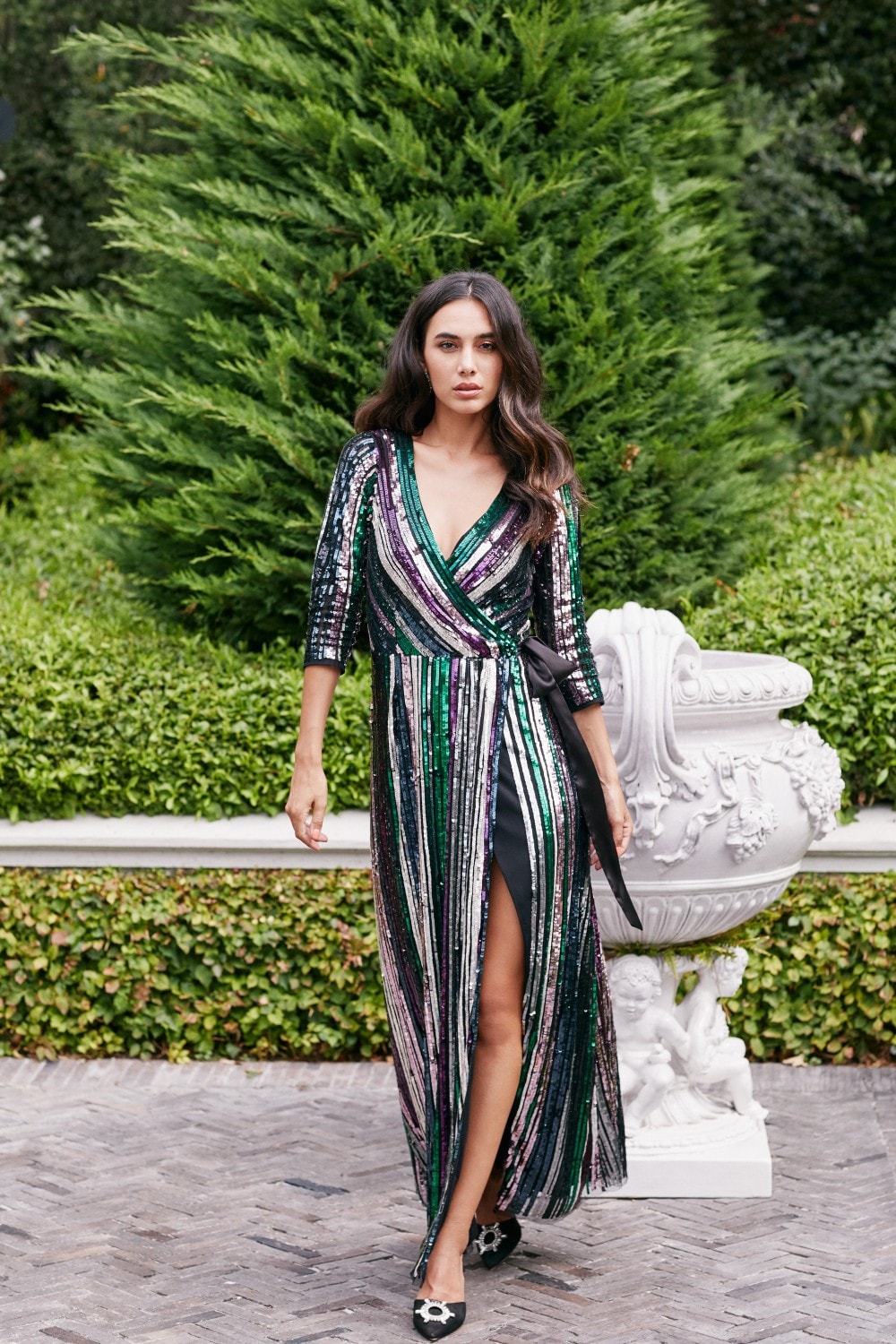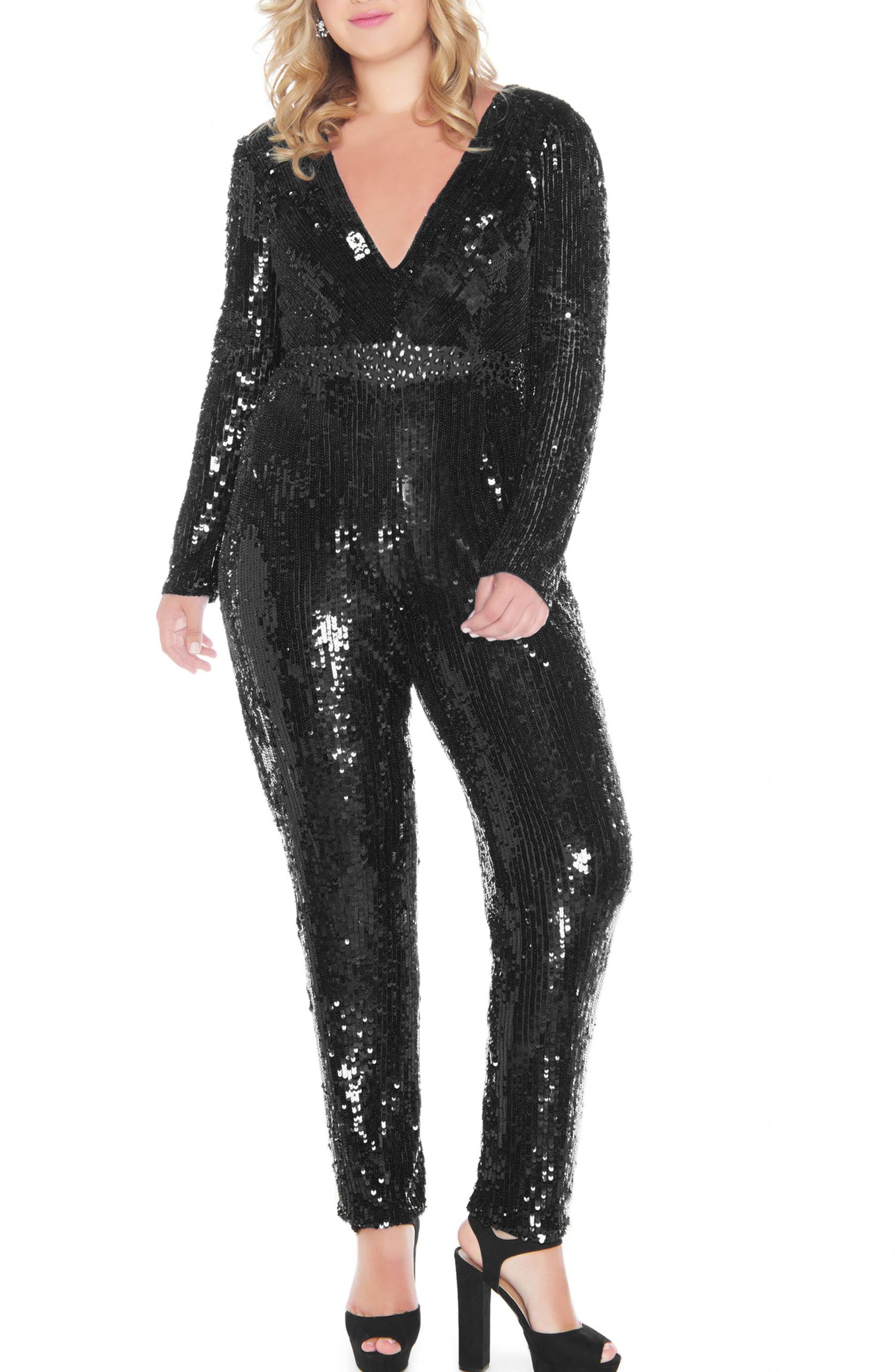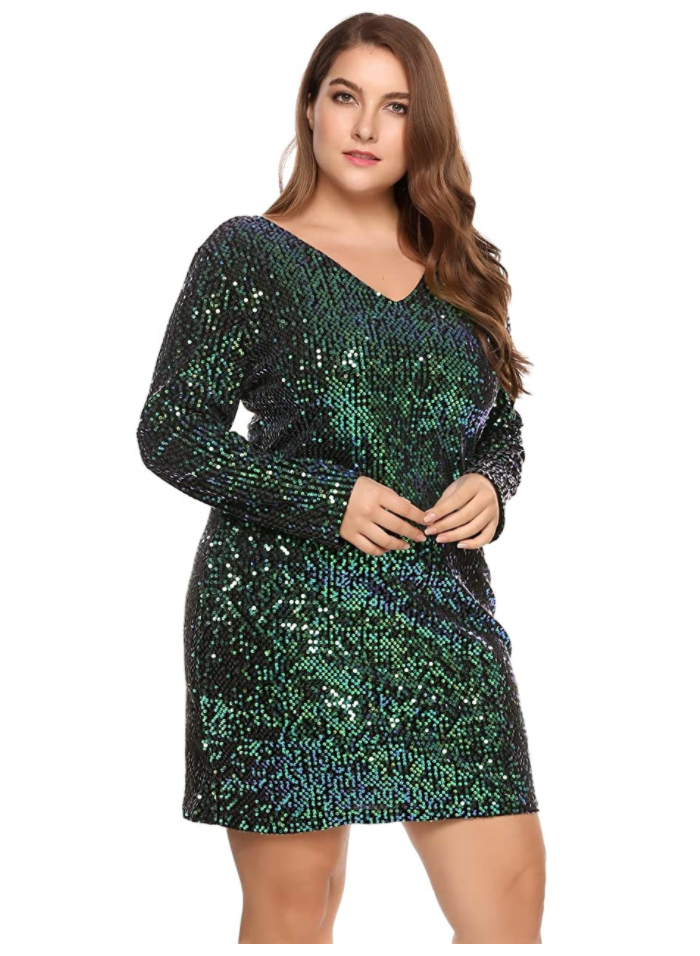 Photo Credit:
shopstyle.it
Spaghetti straps with a simple silhouette are always a sexy easy look. (Available size 0x-2x)
Photo Credit:
www.eloquii.com
How amazing is this sequin jumpsuit!?
Photo Credit:
www.ashleystewart.com
Shining metallic sequins cover this elegant plus size swing dress. With flared short sleeves, this piece offers a playful yet elegant look. Available in size 12-36
Photo Credit:
www.eloquii.com
Be a showstopper at the next holiday event in this number. Available in size 14-24
Photo Credit:
www.citychiconline.com
Party in comfort and style with the Let's Party Pant! Featuring dazzling all-over sequins, an elasticated waistband, functional pockets, and elasticated cuffs, these pants are a comfortable go-to fave that will make you look fabulous at your next event
Available in size 12-24.
Photo Credit:
www.ashleystewart.com
Flirty plus size bodycon boasting a vibrant stripe pattern finished in a shiny sequin fabrication for a fabulous night out. (Available in size 26-36)
Photo Credit:
www.prettylittlething.us
This blazer dress is sure to bring a little drama to your event wardrobe doll. Featuring a bright green sequin material with an oversized fit and long sleeves, we're in love. Style with statement heels and diamante accessories for a look that will have all eyes on you.
Available in size 12-26
Photo Credit:
www.riverisland.com
Anything with a slit will have sex appeal. Available in size 14-18.
Photo Credit:
shopstyle.it
Plenty of sparkle for those big-city nights can be found on this eye-catching sequined dress styled to hug your curves with a flattering ruched front
Photo Credit:
11honore.com
This stunning sequined gabardine skirt from Brandon Maxwell sits high on the waist and falls to a proper tea-length. Available in size 18-22
Photo Credit:
shopstyle.it
Show out in this standout sequin dress.
(Available in size 14-32)
Photo Credit:
www.milanoo.com
Plus Size Bodycon Dress Jewel Neck Long Sleeves Sequins Polyester Knee-Length Purple Dress. Available size XL-5X)
Photo Credit:
www.asos.com
Soft, breathable jersey-shirt fabric. Available in size 12-26.
Photo Credit:
www.davidsbridal.com
A modern take on Old Hollywood, this plus-size mini sheath dress features allover sequins sure to make you feel like a star. Delicate ruching at the center creates the most figure-flattering silhouette.
Available in size 18-24
A sequin wrap dress is perfect for all shapes and sizes. Available sizes 0x-4x
Photo Credit:
shopstyle.it
Mac Duggal sequined gown with a mock-wrap skirt. V neckline. Sleeveless. Thigh slit in the skirt. A-line silhouette. Floor-length hem.
Available size 14-18
Photo Credit:
www.venus.com
Every party needs a stand-out, and this dress is the one! The luxuriant green velvet and gleaming sequins of this bodycon-styled dress match the twinkle in your eye as you scan the room at party central. Pair with sparkly Jewelry and heels and you're all set.
Available in size 0-24
Photo Credit:
shopstyle.it
Coated in crystals, sequins, and intricate beading, this knee-length dress offers a modest design for moms and guests
(Available in size 0-18)
Sequin joggers are a must for all stylish plus-size women. I have a pair that I love so much. They are super fun to dress up and down. The Eloquii wide-leg sequin pants have my fashion heart skipping a beat.
Because sequins are very bold, loud and you will definitely stand out in a room. A lot of women avoid them at all costs. Here are some tips that will assist you.
Tips for wearing sequins:
Let the sequin piece speak for itself. You don't have to put much thought into the remainder of your look.
How to make your sequin look daytime appropriate? Pair it with a basic tee and sneakers.
While dressing up sequin make sure everything fits the look. Wear heels and a blazer and associate with fabrics like silks, velvets, and satins.
If you want to tone down your look avoid multi-color sequin and bright colors.
We are vaxed and ready to start going out for the holidays. You have no excuse for why you can't be stylish in sequins. You can have fun in a sequin jumpsuit or wide-leg pants. You can feel sexy in a bodycon sequin dress. Whatever you desire!
Let's chat: Are you a fan of sequins? If you aren't, why the hesitation? Did you see anything you must have?