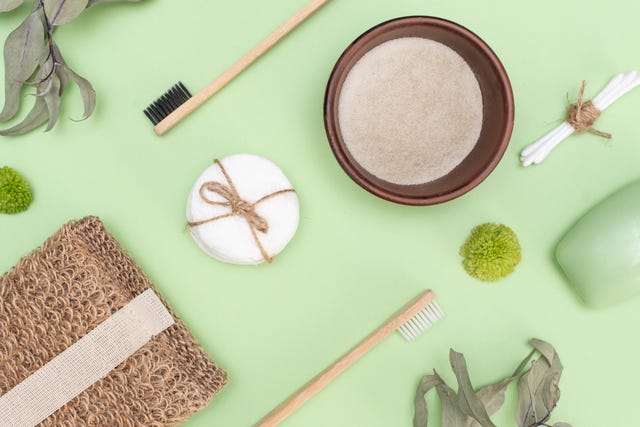 Kseniya OvchinnikovaGetty Images
From sourcing local ingredients to minimizing packaging, eco-conscious beauty companies are going full steam ahead with their efforts towards sustainability. This is great news if you too are committed to an earth-friendly existence.
And while overhauling every step of your routine and all the products in your bathroom stash might be overwhelming, there are small, simple changes you can make to have a more green approach to grooming and skincare. Here are some shopping tips, product swaps, and community networks to get you started. Remember, every little step adds up and helps make a significant impact.
Supporting local, eco-friendly shops is important. But it doesn't end there. You can make earth-conscious choices when you shop at big chains and convenience stores as well. Look for 100% recycled packaging, especially when reaching for something bottled in plastic. Try to prioritize products with certified sustainably-sourced ingredients. And consider leaning towards brands that partner with organizations making positive impacts on the environment. Love Beauty & Planet, for example, checks all of these boxes—they've recycled the equivalent of over 60M plastic bottles to create their packaging—plus, their scents are irresistible.
Switching to shampoo and conditioner bars is a simple, impactful way to reduce your carbon footprint. By nixing plastic bottles, you avoid the manufacturing process of those containers, as well as the aftermath (which could mean being downcycled or
ending up in landfills). Our pick? Dip's ultra-nourishing shampoo and conditioner bars. In addition to performing at the level of top salon brands, they last virtually forever—which means purchasing less, wasting less, and spending less. As a bonus, they have multiple uses beyond cleansing and conditioning hair (which is another clever way to prevent excess). For example, the conditioner bar also works as shaving cream, a leave-in treatment, or a detangler.
Makeup removing wipes and disposable cotton rounds may seem essential to a glow-inducing routine. But they typically contain materials that are not biodegradable, meaning they will end up in landfills for a very, very long time. And since these items are used daily by people everywhere, it creates a substantial amount of waste. The good news? There are tons of reusable options that deliver even better results.
Two of our favorites: Jenny Patinkin's Reusable Sheet Mask, which you can customize for the treatment your skin is craving at that moment, and Face Halo's Reusable Makeup Remover Pads, soft little cotton clouds that whisk away makeup (and replace 500 single-use wipes or cotton pads).
Over 1 billion toothpaste tubes are discarded each year. Luckily, other options can keep your smile clean, bright, and healthy—without causing waste and pollution: our favorite, toothpaste tablets. You just bite the tab a few times, then brush with a wet toothbrush as usual. They typically come in glass jars, which are infinitely recyclable (unlike plastic tubes) and make your bathroom shelf look like a chic apothecary.
Instead of ordering new products to replenish your latest empties—or throwing away a hand cream that wasn't your favorite scent—search or offer up within your local Buy Nothing group. The Buy Nothing Movement is a community-building gifting economy that encourages sustainability by minimizing waste and streamlining purchases. There are currently 4.27 million Buy Nothing members across 44 countries—and lots of skincare and beauty items are up for grabs. Look for products that are still sealed or can be sterilized (like makeup brushes). Once you find your Buy Nothing group on Facebook, simply ask for whatever you want or list anything you'd like to give away.
Everything is free—no trades, no barters, no catch.
This content is created and maintained by a third party, and imported onto this page to help users provide their email addresses. You may be able to find more information about this and similar content at piano.io