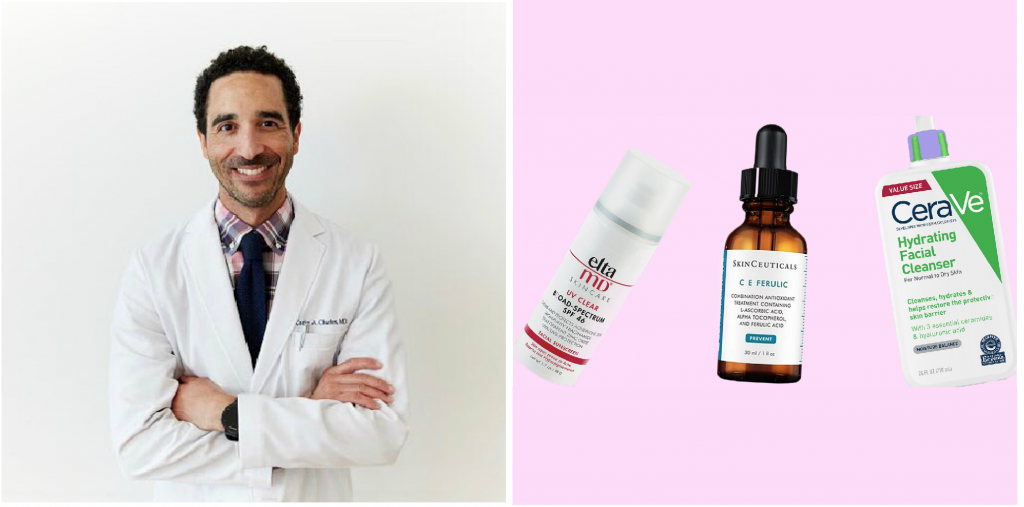 There's so much to do in the summertime. From cookouts to vacations, we seem to always be on the go. It's a great time to be outside, soaking up some sun or lounging by the pool. It's also a great time to revitalize your skincare from a winter to summer routine.
Whether you live in a dry or humid climate, your skin still needs some TLC in the summer. From serums to body oils, we're giving you six skincare essentials you should try to keep you summertime fine.
Summertime Fine: 6 Skincare Essentials You Should Try
As The Curvy Fashionista editors, we write about stuff we love and we think you'll like too. The Curvy Fashionista often has affiliate partnerships, so we may get a share of the revenue from your purchase.
Facial mists are a great way for your skin to feel refreshed and hydrated throughout the day. I love the Supercharge Revitalizing Facial mist by Milani.
Not only is this spritz affordable, but it also has great ingredients like ginseng and aloe that protect and refresh. A couple of spritz of this while you're on the go and your skin feels like new.
This retails for $9.99 and can be found at your local drugstore or Ulta.
Photo Credit: Blissworld.com
It's hot and humid and the last thing we want is excess oil and dirt clogging our pores. A good clarifying cleanser removes dirt, oil and makeup without stripping it and leaving it dry. The Bliss Clear Genius Clarifying Cleanser cleanses and calms the skin without drying it out.
This has Salicylic acid and willowbark as it's main ingredients which makes this great if you're prone to acne.
This cleanser can be found at Target or Ulta and retails for just $13.
Photo Credit: Delishcondish.com
Vitamin C serums are the secret weapon to any skincare routine. They have targeted ingredients to treat a variety of skincare concerns such as dull texture and dark spots. Serums also act as a bridge between your cleanser and moisturizer.
The Brightening Nectar Vitamin C Serum from Delish Condish has entered the chat. This serum has Vitamin C, Hyaluronic Acid and Niacinamide (Vitamin B3) as its main ingredients. Hydration, protection and brightening all in one? Yes, please.
This retails on the Delish Condish website for $23.
Photo Credit: Krazyessentials.com
Body oils in the summer months are a great alternative to heavy creams and lotions. They're hydrating and when applied to damp skin, give you the softness without leaving you greasy. The Krazy Essentials Dry Body Oil can be the perfect addition to your skin routine.
This oil melts into your skin and leaves it soft and supple. With scents like Black Sunshine and Double Wahala, this oil will have you smelling good and looking moisturized all summer long.
This retails for $15 on the Krazy Essentials website.
Soft and exfoliated skin is always in season. Body scrubs are a great way to get some exfoliating in while you bathe. Scrubs have fine granules and added oils that slough away dead skin leaving you soft and moisturized.
The Coco Colada Shea Sugar Scrub is an affordable scrub that boasts shea butter, sweet almond and evening primrose oil in its ingredients.
This smells amazing and is gentle when exfoliating the skin. You can purchase this at Ulta for $8.99.
Photo Credit: Blackgirlsunscreen.com
There's no way your summertime skincare would be complete without a good sunscreen. Being outside more with the sun in our faces means more protection is needed. Sunscreen on your face and body will help protect you from those harmful UV rays, and help reduce hyperpigmentation.
I love the Black Girl Sunscreen with SPF 30. This formula doesn't leave a white cast and feels moisturizing without leaving the skin too greasy.
This retails for $18.99 at Target or on the Black Girl Sunscreen website.
As the weather begins to heat up, your skin care needs will change. Facial mists will give the skin a blast of cool hydration, serums will target specific skincare needs, sunscreen will protect the skin from harmful rays, clarifying cleansers will remove everything the day had to offer while body scrubs exfoliate and dry body oils lock in moisture.
Make sure you have these six essentials in your arsenal to glow all summer!
Tell us- what are some of your favorite summer skincare essentials? Will you be adding any of these to your routine?