There's a certain "It Girl" effortlessness that seems to exist in the straight-size world, especially when it comes to polished professional pieces. Every plus size woman who's worked in an office environment, especially in a corporate sphere with a strict dress code, has found themselves settling time and time again for whatever workwear their local department store offers.
But you're a boss babe, and it's about time your work wardrobe reflects that. Enter Henning, your plus size solution for a promotion-worthy career collection. 
Henning Launches with the Polished Professional Pieces You've Been Waiting for
Rally Blazer, $595; Rally Pants, $349
Designed by former Glamour editor and plus size model Lauren Chan, Henning is a size 12-24 collection of career classics updated with contemporary touches and luxurious fabrics.
Henning is all the things I was missing when I was working as a fashion editor. I wanted high quality, high-end things that made me look like a high-end person, made me look like I was capable of the work I was already doing, and I couldn't find them. So I put a lot of thought into fabrication, design in terms of the silhouettes, design in terms of the fit tricks, into the branding, into the photoshoots to make the Henning customer feel like she is as commanding as she feels on the inside. 
Bank Blazer, $595; Bank Pants, $295
Not only was Chan frustrated with the lack of elevated businesswear, she was frustrated by the low-level quality that exists in the options that are often offered for the office. Unwilling to compromise on quality, she knew Henning would have to have an elevated price point, but Chan has kept it as low as possible by selling direct to customer instead of wholesale. "It's made in New York, the fabric is top-notch fabric, we share mills with some of the most exciting American designers, and the attention to design and all the development that goes into iterating and iterating until we have a perfect product," explained Chan regarding the cost.
After Hours Dress, $549
These were the things that I always wished that I had. I wanted a great trench coat, I wanted some power suits, I wanted a dress to wear to fashion events after work that I didn't feel embarrassed to be photographed in; so this is all of it.
Overtime Trench, $995
And no one can deny Henning is Chan's passion project, as she's currently self-funded. The absence of investors is the sole reason the line currently stops at a size 24, but she wants to hopefully expand the range to be as inclusive as possible.  "On every product page we have a form that will start a pre-order for any size above a 24. In full transparency, we needed it to make financial sense because it's not a venture-backed business, but we're not saying we won't do it, we absolutely want to be as inclusive as possible. But right now if you go on the site it asks what size you'd like to order the item in and then it triggers an email to us and we start conversations with those people and when we get the minimum order quantity we'll cut the sizes."
Bank Blazer, $595; Bank Pants, $295
Take a look at the rest of the pieces in the collection.
Henning X For Days T-Shirt, $65; Raise Pants, $349
On both: Bank Blazer, $595; Bank Pants, $295
Henning X For Days T-Shirt, $65; Raise Pants, $349; Dovetail Shirt, $249; Bank Pants; $295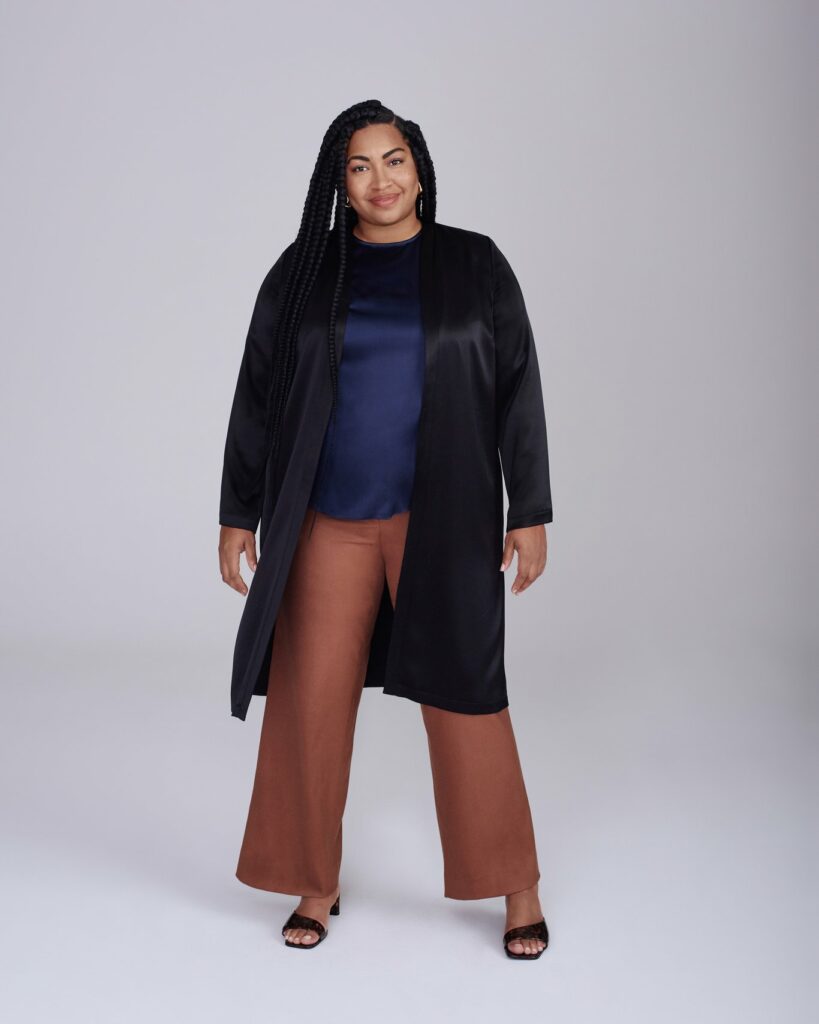 Capital T-Shirt, $249; After Hours Robe, $549
Photos by: Lily Cummings
Of course these price points are not for everyone but for for the money, what do you think of these styles and silhouettes?
As The Curvy Fashionista editors, we write about stuff we love and we think you'll like too. The Curvy Fashionista often has affiliate partnerships, so we may get a share of the revenue from your purchase.