Coming to Rocket League this summer is a 9-week-long event named Radical Summer and it's celebrating the season '80s style.
That's right, if you've had your fill of '80s nostalgia you should look away now because Psyonix will be pumping its motorised soccer game full of the stuff starting from 10th June. Celebrating iconic movies, TV and 'culture' from the decade of big hair and shoulder pads, players will be able to earn 'Cassettes' (google it, kids) through online matches which you can cash in for a bunch of neon '80s swag for your ride.
Most excitingly of all, Ecto-1 – trusty ride of the Peter, Ray, Egon and Winston themselves – is making its long-awaited debut. We've already got the DeLorean from Back to the Future and K.I.T.T from Knight Rider will also be joining them, along with gear from ET, The Goonies, Karate Kid and more.
The event is split into three parts, with the limited-time game modes and content outlined in the official blurb below:
'80s Blockbusters – June 10 to July 1
– The Blockbusters celebration kicks off Radical Summer with the launch of the Ghostbusters Ecto-1 Car Pack on June 10. The pack will include the Ghostbusters Ecto-1 Battle-Car, Ecto-1 Wheels, Proton Pack Boost, Slimer Topper, Ghostbusters Player Banner, Ghostbusters Avatar Border, and the Stay Puft Goal Explosion for $1.99 (or regional equivalent).
– The first limited-time game mode for Radical Summer is Ghost Hunt. In this spooky 3v3 mode players must fire a proton stream to capture the ball and carry it to the opposing team's Containment Zone to score a goal.
– Additional '80s franchises featured in the Blockbusters phase — as in-game items in the Radical Summer Event Store — are Back to the Future, E.T. the Extra-Terrestrial, The Goonies and Karate Kid. Additional details on the landing page.
'80s Culture – July 1 to July 22
– The action-packed Spike Rush Game Mode will start the Radical Summer Culture celebration on July 1. Spike Rush is a 3v3 mode where each player has the Spike power-up from Rumble Mode that can be activated to carry the ball up field.
– New in-game items highlighting the iconic culture of the '80s will be available in Radical Summer's Event Store.
'80s Television – July 22 to August 12
– The Knight Rider Car Pack kicks off the last celebration of Radical Summer dedicated to television. The pack will feature K.I.T.T., the high-speed, talking futuristic car outfitted with high-tech gadgets and personality of its own from the hit '80s show, alongside Knight Rider themed items. More information will be revealed later.
– Beach Ball Game Mode is the final limited-time game mode in Radical Summer. It is a 2v2 mode inspired by beach volleyball with a larger ball, low ball gravity and Curveball mutator activated.
– Additional '80s franchises featured in the Television phase as in-game items in the Radical Summer Event Store are DreamWorks Voltron Legendary Defender and WWE. Additional info to follow later this summer.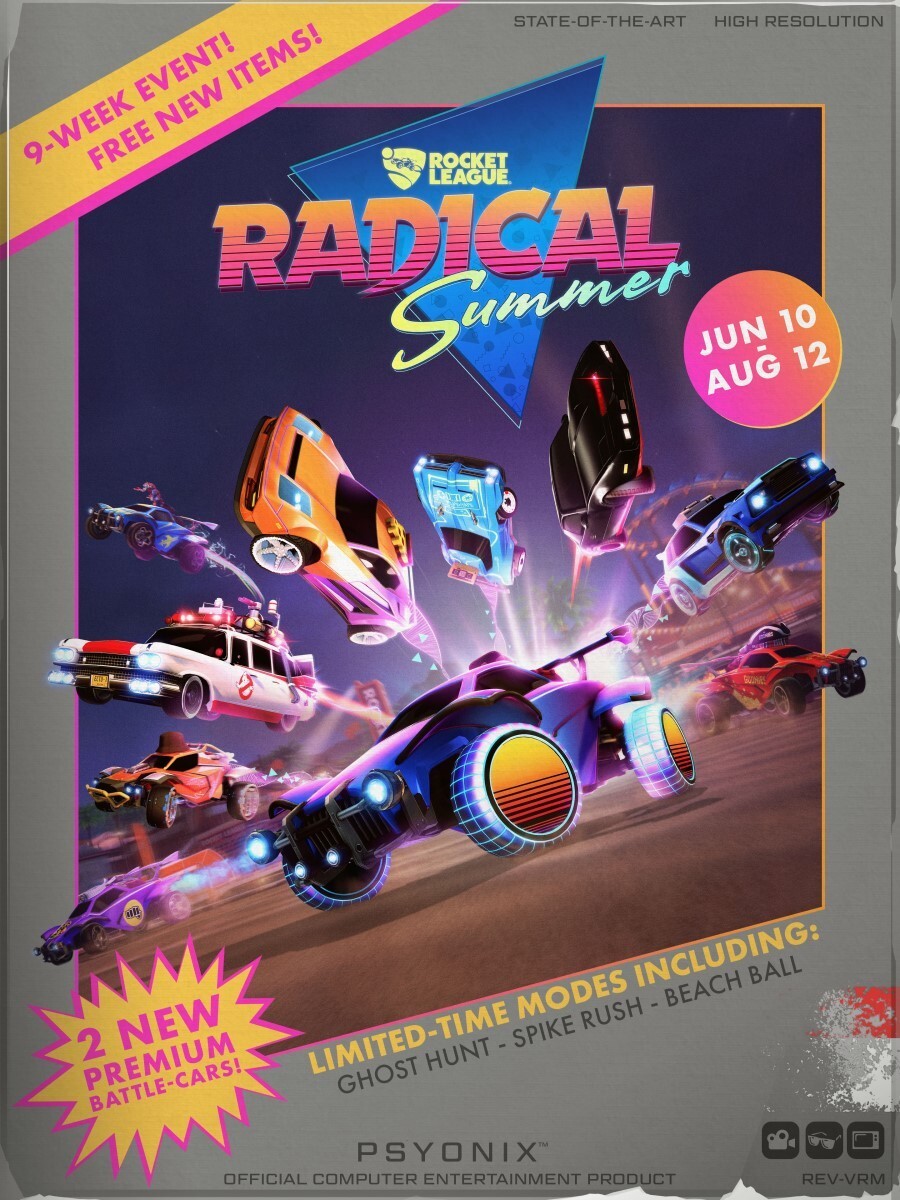 Fans have been calling for the addition of Ecto-1 ever since the game released and we're going to find it very hard to resist this particular piece of DLC. Time to get bustin'.
Had enough of all this regurgitated '80s nostalgia? Still going to get Ecto-1 and KITT despite yourself? Let us know below.