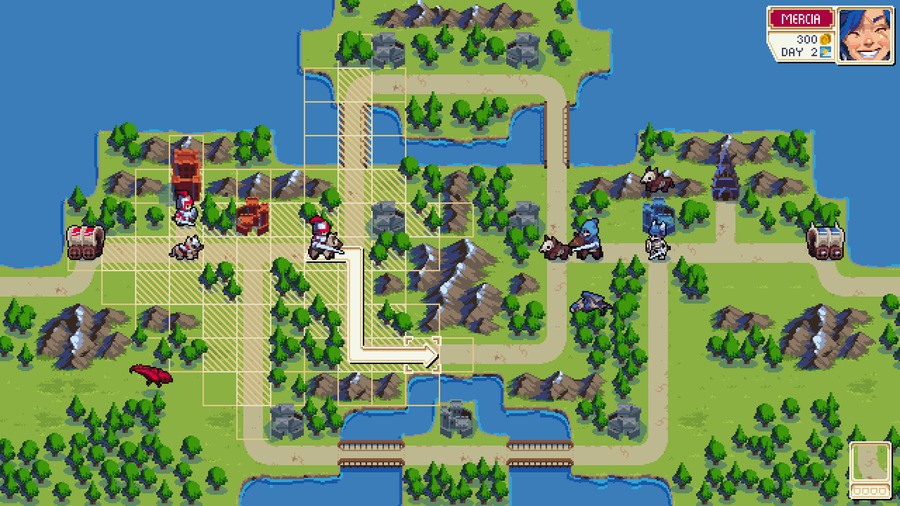 Wargroove has gotten off to a flying start since launch (and rightly so in our opinion) and things are only getting bigger and better as players get their heads around the game's map editor. Not content with simply messing about with the available tools, some players are going as far as recreating memorable scenes from the likes of Fire Emblem and Advance Wars – the game from which Wargroove draws so much inspiration.
Reddit user HalcyonsGlory is currently working on a project which will recreate all 34 maps from the original Advance Wars game. The maps are near identical to those found in Advance Wars; HalcyonsGlory notes that the only difference is the fact that players can't move onto buildings in these recreations as Wargroove doesn't allow this to happen. The first four maps are now entirely complete and ready for other players to play, with the rest following soon.
You can see the first maps side-by-side below.
Elsewhere, Kotaku reports that players have been recreating levels from GBA title, Fire Emblem. Fire Emblem's use of unique character units means that these recreations can't be as close to the original as the Advance Wars recreations, but that hasn't stopped players from creating impressive renditions of various maps such as the first ten chapters of Lyn's story mode.
If you have a copy of Wargroove sitting on your Switch, you can try out these fan-made maps yourself, even if you haven't made it through the game's tricky campaign. Simply head to the game's custom content section and choose whichever one takes your fancy; HalcyonsGlory's first four Advance Wars maps can be found with the following code: 6FK77AS6.
With DLC and quality of life improvements on the way, Wargroove is fast becoming one of the standout releases on Switch. Have you tried it yet? Are you itching to give it a go? Let us know in the comments.