Over the last few hours, rumours have been circulating online suggesting that a major reveal of the new Animal Crossing game for Nintendo Switch is just around the corner. The rumours started to flow after fans discovered a collection of private Animal Crossing videos on YouTube but, sadly, this doesn't mean that a reveal is on the way. Let us explain…
The speculation was first teased in a since-deleted Reddit post, amongst other places, before being shared around by news outlets and fans of the series online. The post linked to an Animal Crossing video playlist on the Nintendo DE YouTube channel which contains multiple private videos and, upon seeing these, eager fans began to get a little over-excited, dreaming of an imminent reveal that would perhaps come in the form of a Nintendo Direct or similar.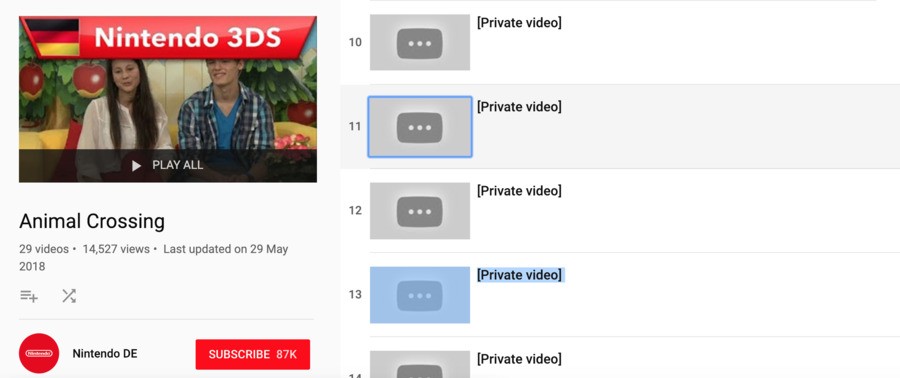 While we could never rule out the possibility of a surprise Nintendo Direct happening at any moment, including a reveal like this, the videos in question are not related and there are no signs of a reveal coming any time soon. The playlist in question hasn't been updated for several months, and punching the private videos' URLs into Google reveals that they are old listings that have since been removed – such as an old commercial for Animal Crossing: New Leaf and Tomodachi Life on 3DS.
The last official update we had on the game revealed that it is still on track for a 2019 release; we're as desperate for more news on our favourite little critters as anyone, but it's still very much on the way and more news will come when it's ready. Hopefully that wait won't be too much longer!