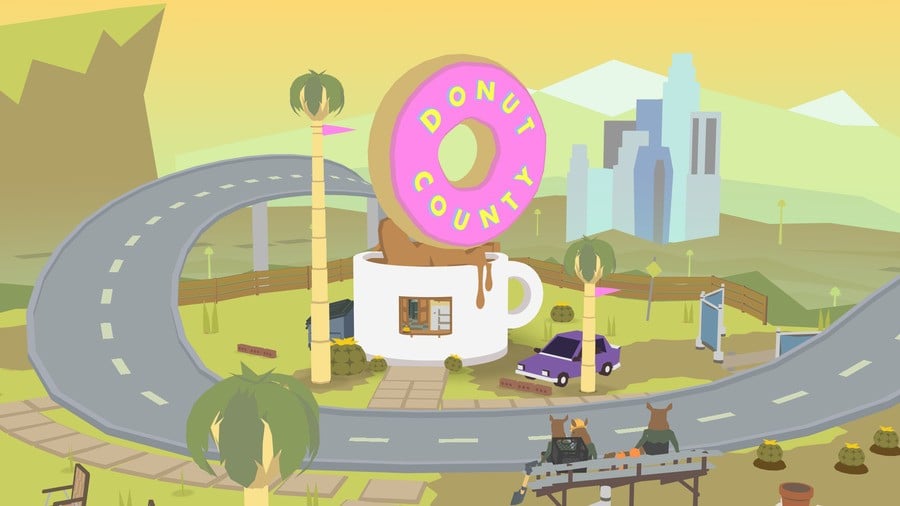 The latest Nintendo Download update for North America has arrived, and it's bringing new games galore to the eShop in your region. As always, be sure to drop a vote in our poll and comment down below with your potential picks for the week. Enjoy!
Switch eShop
Donut County (Annapurna Interactive, Tue 18th December, $12.99) Donut County is a story-based physics puzzle game where you play as an ever-growing hole in the ground. Meet cute characters, steal their trash, and throw them in a hole. Where Trash is Treasure Raccoons have taken over Donut County with remote-controlled trash-stealing holes. You play as BK, a hole-driving racoon who swallows up his friends and their homes to earn idiotic prizes.
Sundered: Eldritch Edition (Thunder Lotus Games, Fri 21st December, $19.99) Confront hordes of terrifying enemies in an ever-changing world inspired by the works of H. P. Lovecraft. Sundered is a challenging and unique take on a classic genre from the creators of Jotun, now with local co-op! Read our Sundered: Eldritch Edition review.
Battle Princess Madelyn (Causal Bit Games, Today, $19.99) Battle Princess Madelyn is a game that follows the journey of a young knight in training, Madelyn, and her ghostly pet dog, Fritzy. They set out on a journey to save her kingdom and her family from the clutches of an evil wizard. Read our Battle Princess Madelyn review.
Aaero: Complete Edition (S2 Entertainment, Mon 24th December, $14.99) Speed through stunning, stylised environments tracing ribbons of light, releasing the energy in the music. Battle strange enemies and fight epic boss battles all driven by an incredible licensed soundtrack. Independent micro-studio 'Mad Fellows' brings you a unique and innovative game featuring music from Noisia, Flux Pavilion, Katy B, The Prototypes, Neosignal and many more. Read our Aaero: Complete Edition review.
Abyss (EnjoyUp Games, Tue 25th December, $2.99) Explore the abyss! Earth, 3024. Natural resources are scarce and the survival of the human race is in danger. Desperate to find new energy resources, the ASAN creates a biomechanical robot called Nep2no that is capable of withstanding extreme depths in the hope of finding new energy sources.
ACA NEOGEO METAL SLUG 5 (HAMSTER, Thu 13th December, $7.99) "METAL SLUG 5" is an action shooting game released by SNK in 2003. The Ptolemaic Army has stolen some very confidential files! Choose from four familiar faces: Marco, Eri, Tarma, or Fio to take them down!
Arcade Archives ATHENA (HAMSTER, Co., Thu 13th December, $7.99) "Athena" is an action game released by SNK in 1986. Athena, the adventure-loving energetic princess of the Kingdom of Victory, goes on a journey to Fantasy World. Running, swimming, and even flying?
Awe (BLG Publishing, Today, $4.99) Awe is a god-game about expressing one's creativity by shaping and building planets' ecosystems in a tranquil, relaxing ambience accompanied by exquisite, minimalist low-poly 3D art and atmospheric music. A constant sense of progression and discoveries will maintain the player's interest throughout puzzle-like levels, leading him to eventually understand his place and purpose as a god in this universe he has created.
Blacksea Odyssey (Digerati, Mon 24th December, $12.99) The hunt is on! Get ready to battle colossal space monsters in Blacksea Odyssey, a savage, top-down rogue-lite shoot 'em up RPG.
Bring Them Home (Higgs Games, Today, $14.99) Since each astronaut has unique abilities, complex puzzle worlds must be mastered to find a way out. Explore many interesting locations, activate and use different mechanisms to bring the brave heroes home! This is the moment to embark on a unique journey into space! Find your way through places full of obstacles!
Cake Laboratory (GrimTalin, Today, $2.99) Tower of cakes, every child's dream! Let the kid in you go crazy with sweet and delicious cake towers. Cake Laboratory is a stacking game with a sweet twist to it. Use cakes instead of taking breaks, and make the most delicious tower. A casual game for all family to enjoy, child-friendly and challenging at the same time.
Chronus Arc (KEMCO, Today, $12.99) On their way to the Chronus Shrine to get the Chronus Fragments, Loka and his teacher Teth are surrounded by a mysterious man named Geppel and his gang. They demand the Fragments.
City Builder (BoomBox, Mon 17th December, $9.99) City Builder combines two classic game mechanics in a fun, bouncy new game where players stack pipes, roads and power lines to form ever-larger cities, moving from one to the next across the planet's continents. Along the way, they run into a large number of challenges, ranging from clever/pesky Mole-men to the elusive Bigfoot, Aliens, Wandering Hot-Air Balloons, Huge Bonus Levels and much more.
Clouds & Sheep 2 (Handy Games, Fri 21st December, $9.99) In this eagerly anticipated sequel of the game "Clouds & Sheep", the cute sheep are finally on the loose again! Solve countless quests and fulfil your woolly friends' needs. Plant grass, flowers, trees and shear your animals' different-colored wool to stock up your resources!
Clue: The Classic Mystery Game (Marmalade Game Studio, Mon 17th December, $29.99) CLUE is the classic mystery game – a grand mansion … a dastardly murder … a gathering of suspicious characters. Now you can play the beloved Hasbro family board game on Nintendo Switch! WHO, with WHAT weapon and WHERE? Join Scarlett, Mustard, Peacock, Green, Orchid and Plum on a night of murder and mystery in Tudor Mansion.
Digerati Indie Bundle: INK & HackyZack (Digerati, Mon 24th December, $14.99) Enjoy two indie favourites from Digerati! This bundle contains colorful splatformer INK and bouncy ball-juggler HackyZack INK The world's first splatformer is here! INK is a fast-paced platformer with a twist – levels are invisible and must be splattered with brightly colored paint before they can be seen!
Dynamite Fishing – World Games (Handy Games, Fri 21st December, $9.99) Join the fun in this wild fishing action and rush across the seven seas. Fly fishing is boring! Grab your guns and explosives and let's catch some fish REDNECK STYLE! Forget about idyllic ponds or beautiful coral reefs. Dynamite Fishing – World games will ship you to the best fishing spots all over the globe including an awesome jungle adventure!
Funghi Explosion (D3Publisher, Today, $19.99) Easy to play alone and fun with a friend, this puzzle game is great for beginner or veteran alike. The rules are simple: gather up three of the same Funghi to make them disappear. Funghis will sprout on the log depending on how many blocks you've cleared.
Guess the Character (JanduSoft, Today, $2.99) Guess the Character is a two-player guessing game. Each player starts the game with a board that includes cartoon images of 24 people. The game starts with each player with a random character from the board. The object of the game is to be the first to determine which character one's opponent have.
Horizon Shift '81 (Funbox Media, Today, $9.99) Horizon Shift '81 is an explosive wave based single screen shooter with a real retro feel to it. You can even play the game in Tate screen mode, which is made even better when playing with the Flip-Grip! The player controls a ship in the centre of the screen, enemies approach from the top and bottom and the player is able to switch up and down to deal with the encroaching hoard.
Kingmaker: Rise to the Throne (Artifex Mundi, Today, $14.99) Two royal knights, Edmund and Randall Ulmer, are tricked into a conspiracy against the crown. Pursued by the royal guard and ruthless conspirators, the brothers embark on a dangerous journey that will uncover the kingdom's shameful secrets, restore the honor of the Ulmer family and change their fate forever.
Koloro (QubicGames, Sat 22nd December, $9.99) Embrace a unique one-button gameplay, lovable characters, a wonderful art style and a captivating soundtrack. Play the adventure alone or with a friend as a team in a cooperative mode. Once this is over, a hard mode will keep challenging you! Do you have the courage to face the world of dreams and nightmares?
Leopoldo Manquiseil (Badland Games, Today, $5.99) The video game industry is in danger! A dishonest organization (A. M. E. ) has set out to monopolize the industry and thus control the minds of the players. Developers and distributors have two options: either they take their side or else the market will end up crushing them.
Mahjong Solitaire Refresh (Sunsoft, Thu 13th December, $16.99) "Mahjong Solitaire" is a game of Mahjong tiles. You do not need any knowledge about Mahjong, you just combine the same design tiles! Contains 256 abundant stages! Enjoy the rhythm of removing tiles with Match type which has been newly introduced!
Mana Spark (QubicGames, Sat 22nd December, $9.99) Explore a dreadful dungeon and fight smart enemies that will plan and collaborate between themselves to defeat you.
MIND: Path to Thalamus (Carlos Coronado, Thu 13th December, $11.99) Wrapped in a mind-bending tale, the gameplay of "MIND" focuses on changing the very weather in order to solve puzzles: the player will cycle between day and night, modify the levels of fog and rain and even travel in time between seasons, changing the environment to advance the gameplay-driven story —indeed, the mechanics are directly related to who the protagonist is, what has happened to him and everything he is doing: a man trapped in his own mind, he must use all the tools at his disposition to escape to reality.
Nightshade (D3Publisher, Today, $47.99) A romance visual novel game made in collaboration with D3P Otomebu and Red Entertainment, two companies known for their creative range and production of heavyweight visual novel games. Character design and illustrations are by the popular illustrator Teita. The romance revolves around Ninjas who have lived through the Sengoku Period.
Nippon Marathon (PQube, Mon 17th December, $14.99) Stretch your muscles and embark upon the ultimate marathon of Japan in a crazy party racer! Hurdle barrels, outrun Shiba Inu and dive out of the paths of bicycles – all while throwing fruit at your opponents and dashing across planks precariously balanced over waterfalls in an unreal marathon across the whole of Japan!
Odium to the Core (QubicGames, Tue 25th December, $4.99) Guide Odium through dangerous and intense music-fueled levels to fight and stop the spreading corruption. Reach the core and save the world! Keep the balance to avoid traps, enemies and move through narrow passages. Defeat challenging bosses and discover the story behind the corruption of Odium's world.
Omega Strike (Digerati, Mon 24th December, $14.99) Omega Strike is a Metroidvania game with a huge, open-ended world and multiple playable characters. As Doctor Omega and his mutant armies march toward world domination, only a few brave freedom fighters stand in his way.
Party Arcade (Planet Entertainment, Thu 13th December, $29.99) Party Arcade is a family-friendly party game. We are creating a virtual modern arcade starting with 13 games (with more to come) where players collect tickets, unlock different equipment skins, and battle against family/friends at home or online across the world! With 13 addictive games, a ticket system which rewards players, customizes their equipment look, and allows them to compete with others around the world, the goal is to make Party Arcade the premier party game experience for any platform or console!
Pipe Push Paradise (Digerati, Mon 24th December, $10.99) Pipe Push Paradise is a challenging, plumbing-based puzzle game. You've arrived on a lonely island faced with a hero's calling. Rise to the occasion (push pipes around) and restore this paradise to its former glory.
Rain World (Videocult, Thu 13th December, $19.99) You are a slugcat. The world around you is full of danger, and you must face it – alone. Search for food and shelter between torrential downpours that threaten to drown all life. Evade cunning predators that adapt to catch you. Find your family before death finds you.
Razed (PQube, Wed 19th December, $11.99) RAZED is a lightning-fast, single-player platform racing game that's all about speedrunning. Sprint through dynamic neon levels in the quickest time possible, employing skills such as super-speed boosts, mega-jumps, drifts, stomps and strafes to bypass obstacles and uncover shortcuts to propel yourself up the online leaderboards.
Revertia (PLiCy, Today, $4.99) By turning over the panel and sandwiching the others like Reversi, you can see various actions such as making footholds, erasing obstacles, beating and dropping enemies. Make full use of the actions and solve puzzles to get to the goal!
Super Hero Fight Club: Reloaded (QubicGames, Mon 24th December, $9.99) Welcome to the marvellous Super Hero Fight Club: 17 fabulous fighters and their superpowers. Quick tactical combats. Tricky modes, levels and powerups. Up to 4 players rumble. Single player challenges Become the Queen or King of the Fight Club!
Super Treasure Arena (Headup Games, Mon 24th December, $9.99) Super Treasure Arena is a unique mix of retro-inspired arcade action and objective-based arena shooters for up to 4 players. The result is a frantic game where collecting and stealing coins from your opponents is the key to victory.
The Keep (Cinemax, Today, $17.99) Enter the Keep as an unsung hero on a quest to destroy the mighty wizard Watrys. Explore the dark and complex corridors, treacherous prisons and subterranean realms in this first-person dungeon crawler featuring real-time tactical combat, a unique rune magic system, and puzzle solving.
Trybit Logic (HIMACS, Thu 13th December, $6.99) TRYBIT LOGIC is a fun puzzle game that lets you learn about logical operations used in computer programming. Strategically combine the logical operations panels to defeat the bugs. If a bug's switch reaches 0000 or 1111, you can destroy it!
Uncanny Valley (Digerati, Tue 25th December, $9.99) Welcome to Uncanny Valley – an unsettling story-driven survival horror where nothing is as it seems. Explore an isolated facility and solve its many mysteries, but be warned: the choices you make have meaningful consequences that will determine your fate.
Venture Towns (Kairosoft, Today, $12.00) Assume the reins of a mega-conglomerate to build your very own metropolitan utopia! Stores, houses, mansions–towers! The sky's the limit as you fashion your humble burg into the world's most powerful fiscal force! Place compatible structures near each other to craft specialty districts or "combos," adding flavor to your town while reaping big bonuses and boosting Land Price!
Viviette (DYA GAMES, Today, $9.99) Uncover the secrets and mysteries of Neuville's Mansion. Test your logic against diverse puzzles, locate and use a variety of items, and don't lose your sense of direction, as navigation itself becomes an obstacle in your path.
Wondershot (QubicGames, Sat 22nd December, $9.99) Enjoy a new "couch game" with your friends and family, presented by the publishers of the best-selling Astro Bears Party. No luck, just skill and rage!
Demos
New DLC
SNK HEROINES Tag Team Frenzy – With the latest paid DLC now available for the SNK HEROINES Tag Team Frenzy game, you can add the audacious Jeanne from the World Heroes series to your roster of heroines.
Nintendo eShop sales
Great deals this week! Check out the full list of deals available this week here.
So that's your lot for this week's North American Nintendo Download. Go on, be a sport and drop a vote in the poll above, and comment below with your hot picks!