"You're not the only one who wants payback." – Billy Butcher, The Boys (Ep. 306)
The members of Task Force 141 remain in captivity, Vondel is under constant attack, and the appearance Supes from of The Boys adds a new superpowered element to the fight.
It's about to get wild in Season 04 Reloaded for Call of Duty: Modern Warfare II and Call of Duty: Warzone, launching July 12 on PlayStation 4 and PS5. Read on for a glimpse at the new content coming to all three modes in the midseason update.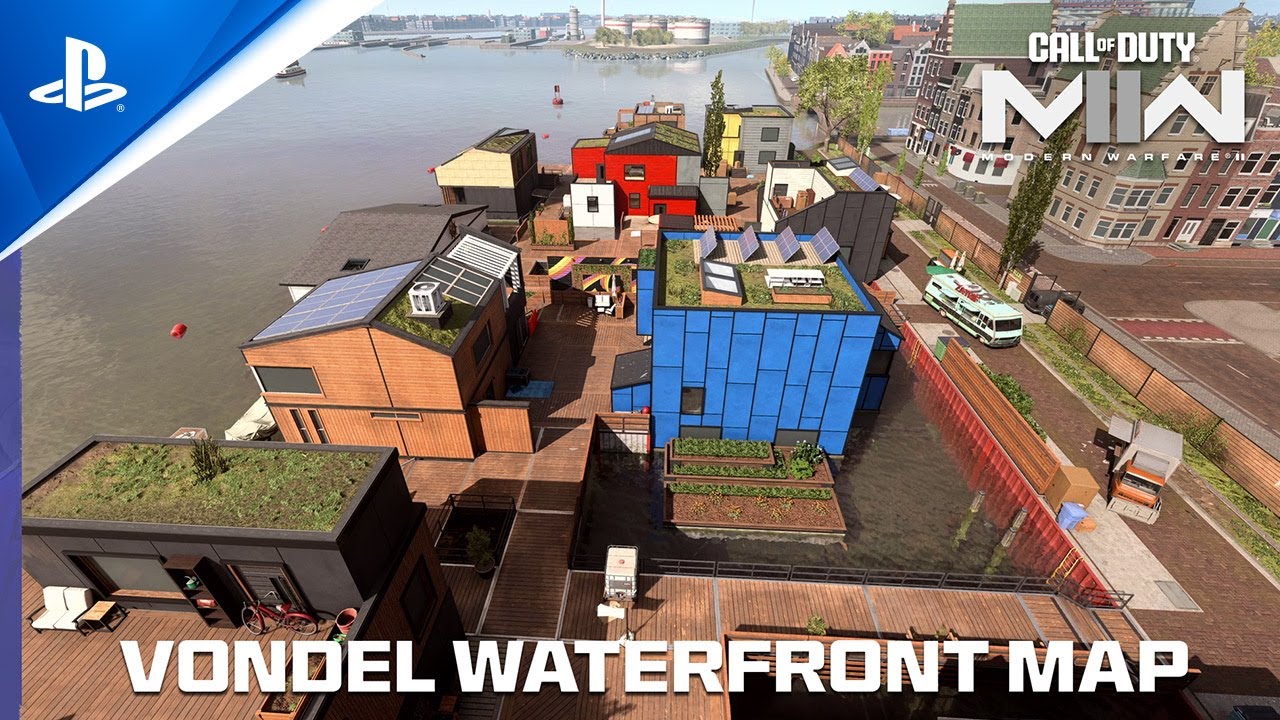 Warzone brings Battle Royale to Vondel, plus a New Gulag and more
Following Vondel's debut with Resurgence mode at the start of the season, the midseason update brings the classic Battle Royale experience with support for up to 72 players.
New Gulag: Fight for reentry to the map in a new Gulag that's exclusive to Vondel. Inspired by a certain prison complex showers, this wine cellar and dungeon beneath the Castle features a three-lane design with a circular center suited for 1v1 combat.
New Resurgence Playlist Rotation: Starting with Season 04 Reloaded, a map rotation system will go live in Resurgence Playlists, switching between Vondel and Ashika Island to add variety to your play sessions.
New Event — Occupation Scan: This in-match event is coming to Vondel. When the event activates, go prone or dive under the water to avoid being scanned. Operators who fail to do so in time will be identified and marked for all to see on the Tac Map and minimap for a limited time.
The Special Ops Raid Finale, new 6v6 Core Map
Multiplayer brings the action to cooperative and competitive modes with the finale to the Special Ops Atomgrad narrative and introducing a new 6v6 Core map.
Special Ops Raid Episode 04: The members of Task Force 141 have been captured and imprisoned by Al-Qatala asset Hadir. In this epic conclusion to Atomgrad, it's up to you and two other Operators to get out and finish what you started.
Vondel Waterfront (6v6): Deploy to the southwestern portion of Vondel in a small-sized 6v6 map optimized for Multiplayer matches. Battle in and between the various pontoon homes, including the major Red and Blue House power positions facing each other across the center of the map. Traverse the deck from locale to locale, or dive into the waterways to stealthily reposition for the flank.
General overview
Guardian MX: The previously classified Season 04 Battle Pass Sector will be open to access. Its HVT reward is the new MX Guardian Shotgun base weapon. Unlike a traditional Battle Pass Sector, all items here are earned by completing the following in-game challenges:
Dependable Emblem: Get 10 ADS Operator kills with Shotguns.
Gunfire Calling Card: Get 10 Hip-fire Operator kills with Shotguns.
Fanning Hutch Loading Screen: Get 10 headshot Operator kills with Shotguns.
1-Hour Double Weapon XP Token: Get 10 one-shot Operator kills with Shotguns.
MX Guardian: Earn All Sector Rewards.
The Boys join the fight
The Supes are here to save Vondel, Al Mazrah, and the rest of the Modern Warfare II universe, for good, bad, or worse. Based on The Boys TV show, their arrival adds a new dimension to Warzone.
New Powers: With help from Vought International's Temp V superpower-activating drug, Operators are reporting access to special abilities.
The first power is the Charge Jump, allowing Operators to move across the map in leaps and bounds. Just like Queen Maeve, an Operator will not suffer any fall damage when they land from a Charge Jump as well as deal splash damage to anyone or anything within a short radius of the Operator's landing spot.
The second power, Electric Shockwave – To put it simply, "electricity goes in, blast comes out." This shockwave sends a powerful electrical explosion that injures Operators and AI Combatants and destroys vehicles and equipment.
The third power, Laser Vision, grants levitation alongside the ability to fire a laser beam wherever the Operator is looking. It's just like one of many powers that Homelander has (don't tell him you think you are as good as he is), but it does leave the user open to backfire.
And lastly, Teleport: Forget taking steps across Vondel's mists; Teleport jumps an Operator forward in whatever direction they face, which is extremely helpful when trying to escape a fight or move unexpectedly to higher ground. And unlike when Hughie Campbell does it, your Operator Skin isn't affected in any way – no lost clothing, in other words – whenever this happens.
These abilities are considered Field Upgrades, meaning they are of limited use; get your timing right and reap the rewards of superpowered abilities. Temp V will exist in all Warzone playlists except Ranked Play.
Operators versus Superheroes: When deploying to Vondel, keep your eyes open for indications that The Boys are in town by way of murals and billboard ads. Even the strongest among us understand the importance of publicity.
Diabolical Camo Challenges
Complete the Diabolical Camo Challenges to earn a Vought-approved grey camouflage that can be used on every weapon in a specific class once earned by completing that classes' challenge. Each weapon class features different elimination requirements, some requiring that you specifically eliminate other Operators, with others requiring that you simply eliminate "Enemies," meaning Operators or AI combatants.
Complete all ten to unlock a superbly diabolical universal camouflage, which can be used on all weapons once unlocked, and a Weapon Charm, which proves mastery of this event.
Store update: Limited-time The Boys bundles, and more
Become Starlight, Homelander, or Black Noir with these limited-time Store Bundles: Priced at 2,400 COD Points each.
The Boys: Starlight — Shine brighter than the others with the Starlight Operator, bundled with three Weapon Blueprints with Tracer Rounds and Dismemberment, the "Necessary Evil" Finishing Move, plus a Weapon Sticker, Emblem, Loading Screen, and Weapon Charm.
The Boys: Homelander — Make them love you and fear you as the Homelander Operator, paired with three Weapon Blueprints with Tracer Rounds and Dismemberment, the superpowered "Laser Everyone" Finishing Move, as well as a Weapon Decal, Emblem, Loading Screen, and Weapon Charm.
The Boys: Black Noir — Suit up and take down the enemy with deadly precision using the Black Noir Operator Skin plus three Weapon Blueprints, two with Tracer Rounds and Dismemberment and the third being a Black Noir-inspired melee Weapon Blueprint, plus the "Shhh" Finishing Move, and a Weapon Sticker, Emblem, Loading Screen, and Weapon Charm.
On top of The Boys Bundles, don't forget to check out these.
Other midseason Bundle highlights include the Pro Pack 6: Graffiti Tactical, Whisker Tango, and the Tracer Pack: Soulless.
Season 04 Combat Pack
Don't forget that PlayStation Plus members can download the Season 04 Combat Pack, headlined by the Oni Operator's Skin "Hydro" featuring a carbon fiber armor-enhanced wetsuit.
Social and community — In-Game LFP — Party Browser
The overhauled LFP (Looking for Party) system helps players find parties with similar communication styles and playstyle preferences. The following changes were made to improve player experience based on community feedback:
Dynamic Preferences: In addition to communication types, an expanded preference list includes primary and secondary playstyle options (e.g., focus on faction missions or competitive versus casual playstyles).
Advertise Your Party: Party leaders can broadcast your existing party and attract individuals who share similar preferences. Fill up your squad with compatible teammates before diving into the action for more collaborative and team-based play.
Browse Parties and Join: No more waiting around! Players can now explore a list of available parties with matching preferences to join them immediately. Note: Exact matches only.
Quality-of-Life Improvements: Bugs were fixed, and the overall user interface was improved to ensure a smoother experience.
To access Party Browser, click "Find a Party." After selecting a mode and entering the lobby, the player can either advertise their existing party or browse available pools.
World Series of Warzone Global Final
The World Series of Warzone Global Final will be held at the legendary Copper Box Arena in London on September 19. Stay tuned for info on where to stream the final, or, if you're a Call of Duty fan in the greater U.K. or European competitive community, consider attending to support the teams.
For Warzone Ranked Play fans, consider grabbing the midseason's WSOW Designated Driver Pack in the Store. This Bundle will feature the "Speed Demon" Operator Skin for the official Call of Duty League (Male) Operator, as well as the "Take the Wheel" Weapon Blueprint and more.
Season 04 Reloaded launches July 12
For the best midseason experience, purchase Modern Warfare II on PlayStation today, giving you access to additional content across three modes, including the ability to unlock 14 exclusive Operators for use across both games. Modern Warfare II owners also get awarded Premium XP at the end of every match while playing Call of Duty: Warzone.
Stay frosty.