Ayrton Senna was a legendary Brazilian driver who changed history – his name is still commonly remembered as one of the most iconic racers of all time.
So what better way to honor his memory than to have a Brazilian-made PS4 game relive his steps in a nostalgia-driven arcade-style racing game? 😉
Horizon Chase Turbo: Senna Forever is the game's largest expansion to date, debuting an entirely new set of cars, tracks, and features inspired by Senna – which, by the way, is all thanks to the partnership and support of Senna Brands. Part of the profits obtained with the expansion will also be dedicated to support Ayrton Senna's Institute educational programs, isn't that amazing?
But let's get to the fun part: racing! The trailer below shows just a little bit of everything we've packed for you, check it out!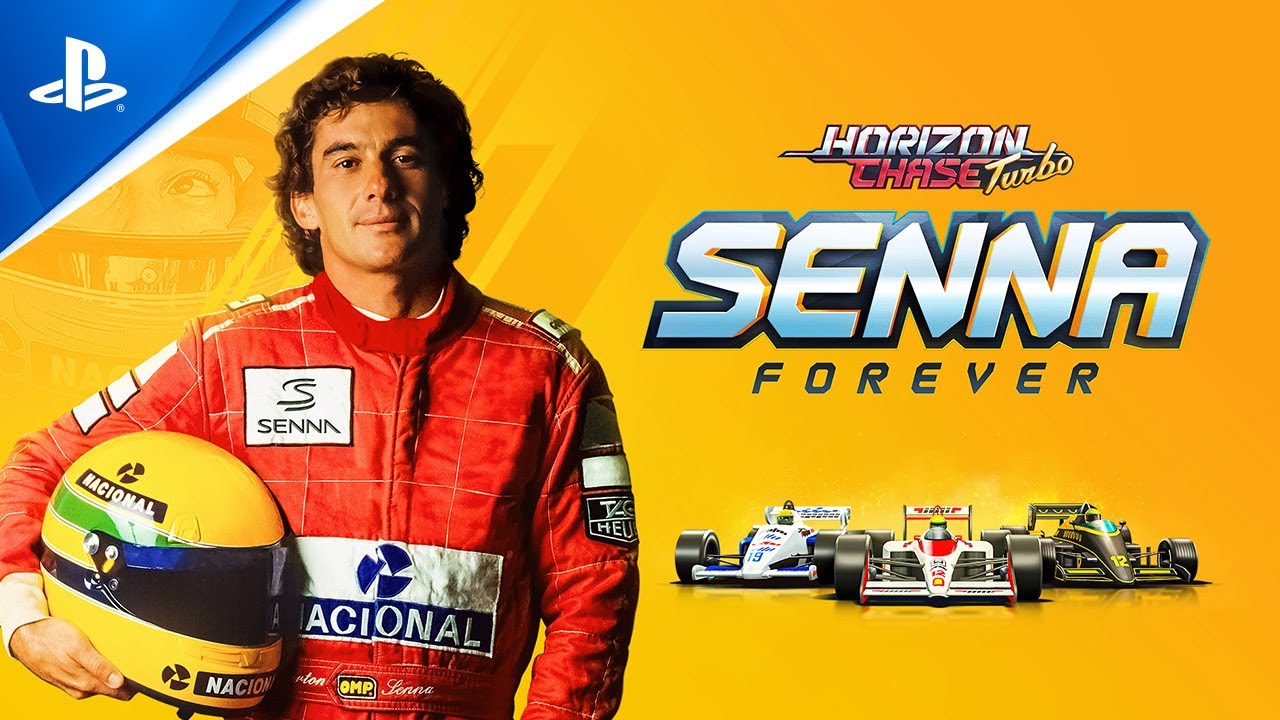 Career Mode? Championship Mode? Achievement system? New exclusive skins? Multiplayer? You name it, we got it. If you heard a familiar tune in this trailer, your ears are also quite right, because it was made by our dearest Barry Leitch, the very same composer for the soundtrack of the main game. The expansion also features tailor-made new tracks for you too!
Imagine being in the shoes of such an amazing driver, especially in first-person view gameplay. That's exactly what you'll do on Senna Forever's Career Mode. There are five different chapters, each with a set number of races from his life you'll have to go through – oh, there are also his own achievements, which we call Senna's Marks, that you can complete here as well!
Oh, did I mention you get a cool narrative screen like the Rain Master for completing these? Yeah! Senna was known as the Rain Master because he was so good at racing in this weather – will you too? Let's find out!
For the first time ever, you'll get to feel the heat of the moment from the inside of a cockpit in Horizon Chase Turbo with this brand-new first-person view, a feature exclusive to this expansion.
Normally, in Horizon Chase Turbo, you'd have a selection of cars to choose from. Only this time, you're Senna, so you're using cars inspired by the ones he drove. To maintain the strategy, there's a new mechanic before each game where you'll have to pick your focus: Enhanced Tires, Advanced Aerodynamics, or Special Fuel.
Of course  new cars are also coming! There are 6 new ones coming to the Career Mode and also 34 different other playable cars to choose from on Championship Mode. Fancy, huh?
If you're worried about the replayability of this game, the Championship mode has you covered.There's 18 different teams to choose from and more than 30 cars to unlock. There are three categories depending on what kind of challenge you're looking for and also randomized competitors, tracks and weather so you'll never know what's coming.
Remember, as kids, when we used to all sit together on the couch to play? That was awesome, wasn't it? We think so too! That's why you can play Horizon Chase Turbo: Senna Forever with up to four local players, also with randomized stuff from the Championship Mode.
So, are you excited? Because we certainly are. As you read this, we're thinking of new challenges to keep the game going for quite a long time yet, so stay tuned for more.