Online play comes to Sackboy: A Big Adventure today as part of a new title update.* And with it a new opportunity to experience the chaotic, slapstick multiplayer fun of Sackboy's latest escapade.
Our goal from day one of this project was to give players an excellent single-player platforming experience. But… we wanted that experience to be even better when you shared it with your mates.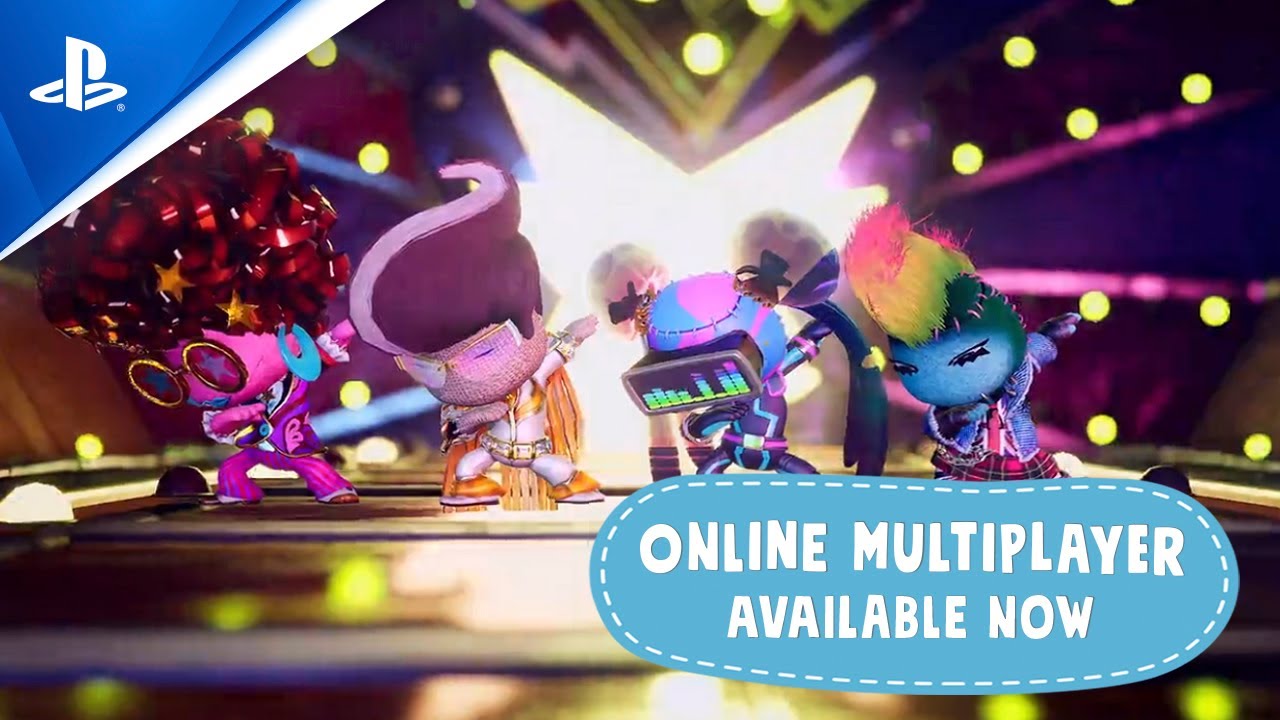 I thought this would be a great opportunity to let you know about the features and content you can look forward to enjoying on your co-op adventure.
Teamwork levels
You can play through Sackboy's whole adventure from start to finish with up to three companions. And we have included a set of ten dedicated Teamwork Levels where you and your friends will have to work together if you want to succeed. There are two Teamwork Levels in each of the five main game worlds. In these exclusive multiplayer stages, you and your team will need to collaborate, coordinate and communicate to reach your goal. And you should expect that at some point it will go completely pear-shaped, often with hilarious consequences.
Guide, goad and grief your friends
There are a bunch of multiplayer moves with which to both assist and annoy your chums. Experiment with slapping, grabbing, and rolling into other players. Then dodge out of the way before they do the same to you. Also, a word of warning: take care when wielding the Swingamajig with other Sackfolk around. You don't want to do anyone a disservice… do you?
As well as these fun ways to aggravate aid your companions there are also co-op emotes so you and your friends can show your appreciation for each other with hugs, high-fives and chest-bumps. You can unlock co-op emotes with collectabells or discover them in prize bubbles. Equip co-op emotes in the wardrobe at Zom Zom's and use them by pressing the D-Pad and having your buddy stand next to you and press the D-Pad too.
Everyone's a winner!
Levels include rewards for bronze, silver and gold high scores. In multiplayer you earn (and lose) score as a team. To score big make sure you use your x2 multipliers wisely, take out as many enemies as you can and pick up those high-value collectables. If you work together you can rack up loads of points! It's worth it because when you hit the scoreboard everyone gets prizes.
Keep your progress
What if you spend a bunch of time playing online helping someone else on their adventure? What happens to all of those valuable, hard-earned Dreamer Orbs you've discovered? Fear not! When you return to your adventure your progress will be carried over to your local game, so you keep all of those hard-won orbs.
PS4/PS5 Cross-Play
This game is awesome fun in multiplayer and we wanted to make sure that as many people as possible get the opportunity to enjoy it with their friends. So we have included support for PS4/PS5 Cross-Play.* 
PS4 to PS5 save transfer
This new update isn't just about online multiplayer, we have also included an option to transfer your PS4 adventure progress over to PS5. To do this, simply load Sackboy: A Big Adventure on PS4, select Extras in the pause menu and follow the instructions.
I hope this post has given you a good idea of the multiplayer shenanigans you can look forward to when you take Sackboy online. We're going to continue to support the game with future updates making tweaks and improvements to give you the best possible gameplay experience.
Finally, as you may know, music plays a massive part in the Sackboy: A Big Adventure. The soundtrack really does need to be heard to be believed. And to coincide with the launch of online play we've put together an all-new trailer celebrating Sackboy's love of music, dancing and dressing up.  I hope you like it and I look forward to seeing you online.
*Online multiplayer requires internet connection and PS Plus subscription; fees recur until cancelled. Age restrictions apply. Full terms: www.playstation.com/legal/ps-plus-usage-terms.