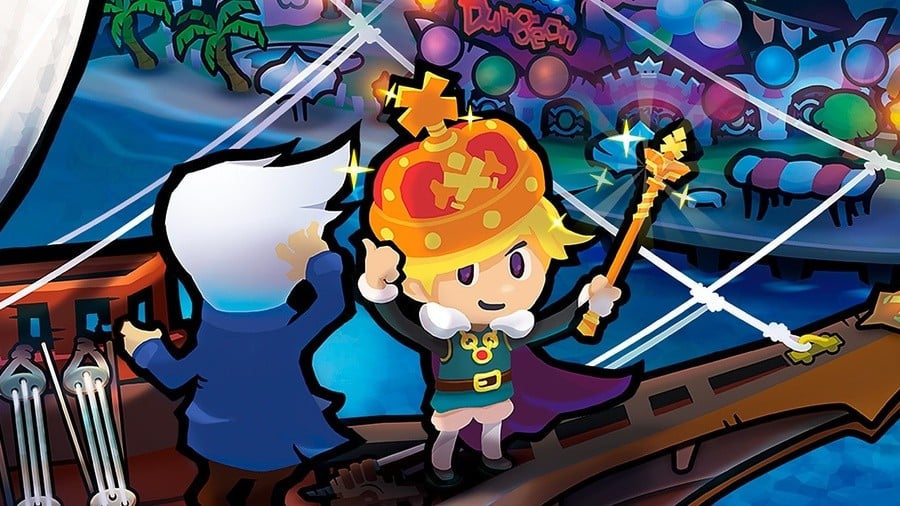 Marvelous Europe has revealed that Heroland has secured a Switch release date across both Europe and Australia; you'll be able to get your hands on it from 31st January.
The game, which has already been available in North America for over a month, has players exploring dungeons, beating up baddies, and becoming the legendary hero they were always destined to be in a new RPG adventure. It all takes place inside a bright, tropical theme park with a quirky cast of monsters to contend with and was originally known by the name 'Work x Work'.
Of course, Heroland immediately caught the attention of Nintendo fans thanks to the talented folk behind the scenes. The game is directed by Takahiro Yamane (Fantasy Life), written by Nobuyuki Inoue (the director of Mother 3), features the art of Nobuhiro Imagawa (Mother 3, Legend of Mana), and has music by Tsukasa Masuko's (Shin Megami Tensei). Not a bad lineup, huh?
In our full review of the game we came away slightly mixed, praising its overall style and writing but feeling that its novelty wears off a little too quickly. Here's a snippet of what we said:
Heroland is very much style over substance… Make no mistake, this is a very funny game, and you'll soon be agonising over which of the delightful main characters is your favourite. Unfortunately, it's not quite enough to hold up the entire game – some folks will automatically gravitate to what is admittedly a unique approach to the RPG genre, but a lot more will likely desire something a bit more hands-on.
The game is set to be available directly from the eShop for £32.99 / €39.99 / $60 AUD, and a physical 'Knowble Edition' of the game will also be released for £39.99 / €49.99 complete with a CD, map and other goodies.
Excited to get your hands on this? Have you already played the North American version of the game? Tell us below.